"The Heart of a Muse! I truly enjoyed sinking into this book of poems! Ms. Faison has captured the heart of women. If ever there was a time you couldn't quite put a finger on your mood, you'll find yourself between these pages.This book is perfect for a quiet evening of introspection between lovers, or a rambunctious brunch with friends. Definitely a great gift." Salome Salih El Bey (Charlotte, NC)
---

"Faison writes with a gentle fluidity and cadence that allows the words to flow effortlessly . . . This collection is only the beginning of what Faison will deliver." Shonie Bacon, Author & RAWSISTAZ Reviewer
---

"The flair and style is reminiscent of Danielle Steele in her early days as a poet . . . " Wendy Mackey, Editor
---

"One Incredible Experience! That's exactly what Latorial Faison has given in Secrets Of My Soul, not mere words, but an incredible experience. As a fellow writer, I extend my deepest gratitude and admiration to Faison for unlocking the door to her soul and permitting entrance to those who dare to steal a peek. Her work, in retrospect, is no less than heavenly! Steven Manchester, Poet, Author & Screenwriter (Massachusetts)
---

"You've put into words the spiritual quest of a woman! It's brave, bold, open, tender, and very appealing. I love the boldness and spirituality combined in your poems. I always sense honesty! Joanne Uppendahl (Tacoma, WA)

Sheer magic! This collection of poetry by Latorial Faison is so honest and well-written! Her range of topics touches so many places in me and I can relate to so many of the poems on a personal level. her writing has great depth and her strong spirituality and humanity resonates the pages. I loved the book, and highly recommend it to anyone!
Jamila Frone (Washington, DC)

Before I was an author I was a poet, and Secrets of My Soul is why. I love words and the playful way that poets make words do what they say. Latorial Faison is indeed a poet. She had me from title poem, and when I stumbled upon "Mirrored Soul," I knew I had found someone whose work I'd eat up...hungrily. I've also become an avid fan of haiku and #9 is my favorite with her wordplay with sun/Son. If you only buy the book for "You Never Did Own Me," trust that by the time you get to "I Dare You," you will be glad you did. Linda Dominique Grosevenor author of FEVER

The Soul Has Many Secrets! Ms. Latorial Faison's, Secrets of My Soul is uplifting and a delightful ray of work. Intelligently written, Latorial explores various issues and plights regarding self, family, and the world describing them in words filled with spirituality, empowerment, love and joy. I especially enjoyed the positive energy that I personally felt as I read each one of her poems. I look forward to reading more poetry by Ms. Faison's in the near future. Her poetry is a wonderful 'Fruit of Thoughts'. Wanda Starkes, C&B Books (Brooklyn, NY)

I finally read Latorial's book and all I could think was "these poems were written for ME!" Ms. Faison's words struck so many chords in me. Her poems spoke to my soul and helped me reveal secrets that had been locked in me since childhood. She is a talented writer and I can't wait for her next book! Absolute poetic magnificence!
Cynthia Hooks (Hemet, CA)

In search of identity and "realness" Latorial Faison serves as editor for the online poetry website PoeticallySpeaking.net and her own work has been featured in a variety of literary journals, magazines, anthologies, and poetry oriented websites. Secrets Of The Soul is the latest collection of her work designed to share with her readers what it is like to be a female in search of identity and "realness" in a world of rapid changes and evolving circumstance. Serenity: Serenity enters/on wings/as yearning souls/reflect on dreams/and things/of which/lives are/methodically made of.//Serenity is/refreshing/a cool drink for the liar's/thirsting tongue/a cold shower/for the lover sprung/into the beauty of simply being/someone. Midwest Book Reviews (Oregon, WI USA).

Secrets of My Soul Reviews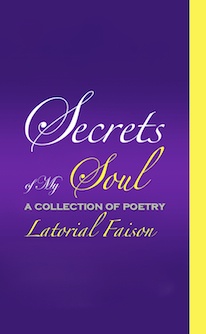 Click on cover to order!